Jack Howard plays trumpet with Hunters and Collectors and for the last fifteen years, he's been releasing his own highly- regarded CDs. Along the way, he's also played with The Living End, The Violent Femmes, Rodriguez, The Break, You Am I, Little Red, Pete Murray and a host of others. In 2017, Jack toured the world with Midnight Oil as their trumpeter/multi-instrumentalist.
Dog Songs is a "best of" the Dogs Bar St. Kilda residency (now into its fourth year) for Jack Howard and the Lost Brothers. The band plays there once a month on a Sunday and it has really led to the re-generation of The Brothers (and a Sister) and of Howard's own music. It's a dancing crowd but also a listening one and the punters love the originals as much as the cheesy covers that the band occasionally break into.
All tracks were recorded late 2019/early 2020 at Hothouse Audio with Craig Harnath and Gez Giddings. Craig also mixed and mastered them.
The band has grown from strength to strength over this time. Cal McAlpine plays drums, Rob Walker plays bass, Ed Bates plays pedal steel, Nicky Del Rey plays guitars, sings backing vocals and sings lead here on Sharp-Dressed Man; and Fiona Lee Maynard plays percussion, sings backing vocals and sings lead here on Red Rose and Coz I Love You. Amy Valent Curlis, our unofficial second sister, plays congas, hubcaps, castanets and various bits of metal. Jack Howard sings and plays trumpet and flugel horn.
Some of these songs are brand new. Some are old favourites going right back to the first steps I took into a solo career post-H & C. Jack Howard wrote all of them except for Frankenstein (Gary Burgess), Coz I Love You (Noddy Holder and Jim Lea from Slade), Who Is He (Bill Withers) and Sharp-Dressed Man (ZZ Top).
DOG SONGS releases September 3, 2020
Jack Howard – vocals, trumpet and flugel horn
Nicky Del Rey – guitar, backing vocals, lead vocal on Sharp-Dressed Man
Ed Bates – pedal steel
Rob Walker – bass
Cal McAlpine – drums
Fiona Lee Maynard – backing vocals, percussion, lead vocals on Red Rose and Coz I Love You
Amy Valent Curlis – congas, hubcap, castanets, bowed cymbal, triangle
Engineer – Gez Giddings
Production and mastering – Craig Harnath at Hothouse Audio
Artwork – Jack Howard
Jack Howard is also releasing his book:
Small Moments Of Glory book
from Jack Howard
Jack Howard plays trumpet with Hunters And Collectors and has been an integral member of the band throughout its history. He is the only trumpeter in the ARIA Rock'n'Roll Hall of Fame.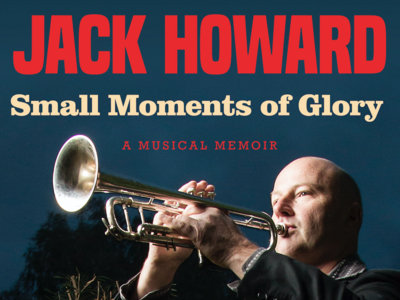 Jack also travelled the world with Midnight Oil on their Great Circle tour of 2017 as the band's horn player/multi-instrumentalist. Small Moments Of Glory was born of a Facebook blog that he wrote about the Oils tour. The blog offered a unique and candidly personal behind-the-scenes glimpse of life on the road. It was very well-received and out of that, Jack decided to write this book.

Small Moments tells an insightful and illuminating tale of Jack's lifelong musical journey – from his early classical music years through the heady days of H & C success, and from his solo career to his work with acts like Rodriguez, The Break, The Violent Femmes, The Living End, You Am I and many more. He has been described as "one of the great quiet achievers of Australian music".

Authentic, self-deprecating and darkly humorous, Small Moments of Glory will take you inside the mind and the music of one of Australia's most distinctive voices.

Includes unlimited streaming of LIGHTHEAVYWEIGHT via the free Bandcamp app, plus high-quality download in MP3, FLAC and more. lessshipping out on or around September 3, 2020edition of 200
ONLY 200 copies of the book printed
Rob Hirst described it as ""Beautifully written, authentic, darkly humorous"
Paul Kelly said "An insider's account of what it's really like to be in a band. Many moments of truth."
Jen Jewel Brown said "A chronicle of a headlong rush from classical training to the monstrous engine room of Hunters & Collectors and beyond, Small Moments of Glory is a charming debut by the tall guy with the trumpet. Jack Howard is equal parts frank and funny as he takes you on-the-road-mode with 'Hunnas', Midnight Oil and more. I didn't want to put this down."
For more information: https://jackhoward.bandcamp.com/