"Polish Club have spent their time breaking new ground and subverting expectations with their blistering sound. Now We're Cookin' continues that thread, with their soulful, blues-rock sounding mixing with almost Nineties-like pop sensibilities at times, showcasing a truly understated versatility."
– ROLLING STONE | 4 STARS
"…impossibly infectious."
– TONE DEAF
"David Novak's voice shifts seamlessly from a whisper to a gravel-coated roar: he is the consummate crooner with style and presence."
– BACKSEAT MAFIA
Fans of Polish Club and burgers unite! Sydney's favourite rock band has teamed up with Sydney's favourite burger joint, Burger Head to create a burger inspired by Polish Club's forthcoming new album Now We're Cookin'.
With the pandemic heavily effecting the Australian entertainment & hospitality industry (especially the current Sydney lockdowns) Polish Club and Burger Head have decided to bring together the power of music and food to help launch the release of the band's new album, dropping Friday 13 August.
The limited edition (make it at home) burger box is available to purchase now and includes Milk Buns, BH Smashed Beef patties, American Hi Melt Cheese, Tomato Sauce, American Mustard, Onion, & BH House Made Pickles + a digital version of Polish Club's new album Now We're Cookin'. Fans are encouraged to create the burger on release day and celebrate with the band and Burger Head during an Instagram Live. What better way to kill time in a Sydney lockdown with burgers and rock n roll!
Lead singer Novak explains, "We made an album and somehow through that, Burger Head have let us make a burger! Or rather, they're prepping a burger inspired by the spirit of our hot new album Now We're Cookin' that YOU can make. What I mean by that is it's just a simple burger, similar to our album cover, except instead of us being the meat patties, it's completely non-human beef patties. And you can order it delivered to make at home."
"When people think of fancy or gourmet burgers, they often think that means having to reinvent the wheel and do dumb, unnecessary stuff to the already perfect burger. Burger Head aren't that. They make simple burgers well. This is where I compare that to our band and sound like a total wanker, so I won't, but I also just did. We're very excited to finally, officially have a Polish Club burger, and we're even more excited to have it created and prepped by the heroes that have brought the perfect classic burgers to Western Sydney & my beloved former hood Botany."
Burger Head hails from Western Sydney and was opened by three young fine-dining trained chefs. After years of working in some of Sydney's best restaurants, they decided to use their love of food & knowledge of ingredients and pour that into the humble hamburger. Check them out here – www.theburgerhead.com.au
Timothy Rosenstrauss from Burger Head, "Covid-19 has derailed the hospitality industry and has also heavily affected the Australian entertainment industry. It has been super tough, and we had to pivot which is why we have been doing these fun 'lockdown cook along boxes!' This week we are doing something special and collaborating with Polish Club to help celebrate their album release."
Novak and JH will also be bringing their full band on the road through November to December, serving up choice cuts on their Now We're Tourin' national tour. And the crowd won't be short of Clubs to join at these shows, with Press Club completing this delicious 2 for 1 PC deal.
Now We're Cookin' tracklist
1. Stop For A Minute
2. New Age
3. Getaway
4. Fix Your Heart
5. No Heaven
6. Whack
7. Just Talking
8. I Didn't Want That (For You)
9. Baby We're Burning
10. Fuck Off & Die
POLISH CLUB
NOW WE'RE TOURIN' NATIONAL TOUR
Presented by triple j
Tickets via polishclub.co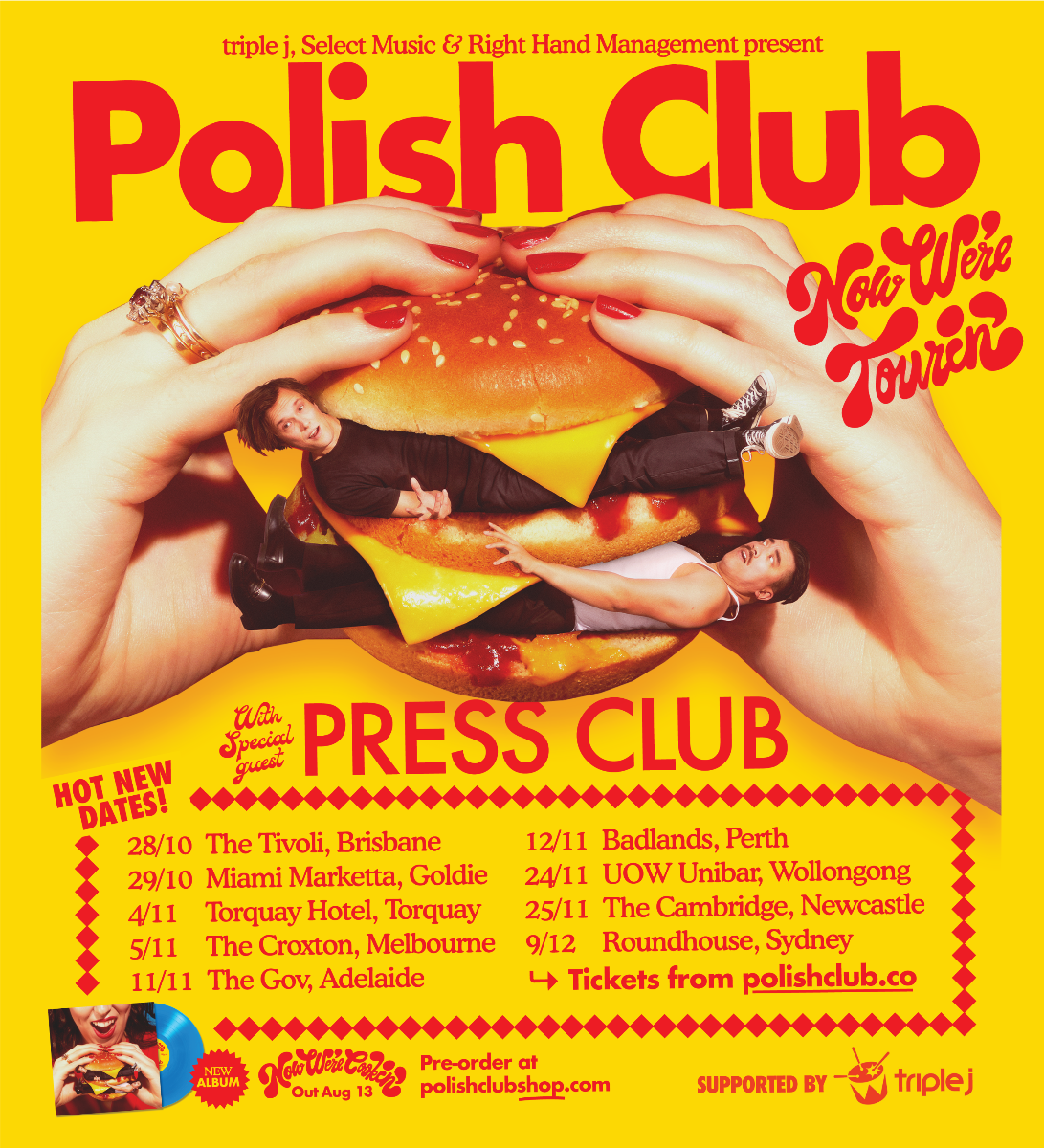 Thursday 28 October – The Tivoli, Brisbane QLD
Friday 29 October – Miami Marketta, Gold Coast QLD
Thursday 4 November – Torquay Hotel, Torquay VIC
Friday 5 November – Croxton, Melbourne VIC
Thursday 11 November – The Gov, Adelaide SA
Friday 12 November – Badlands, Perth WA
Wednesday 24 November – Uow Unibar, Wollongong NSW
Thursday 25 November – The Cambridge, Newcastle NSW
Thursday 9 December – Roundhouse, Sydney NSW
New single Whack OUT NOW
New album Now We're Cookin' OUT AUG 13
MORE INFO:
WEBSITE
FACEBOOK
INSTAGRAM
TWITTER
SPOTIFY
APPLE MUSIC
YOUTUBE