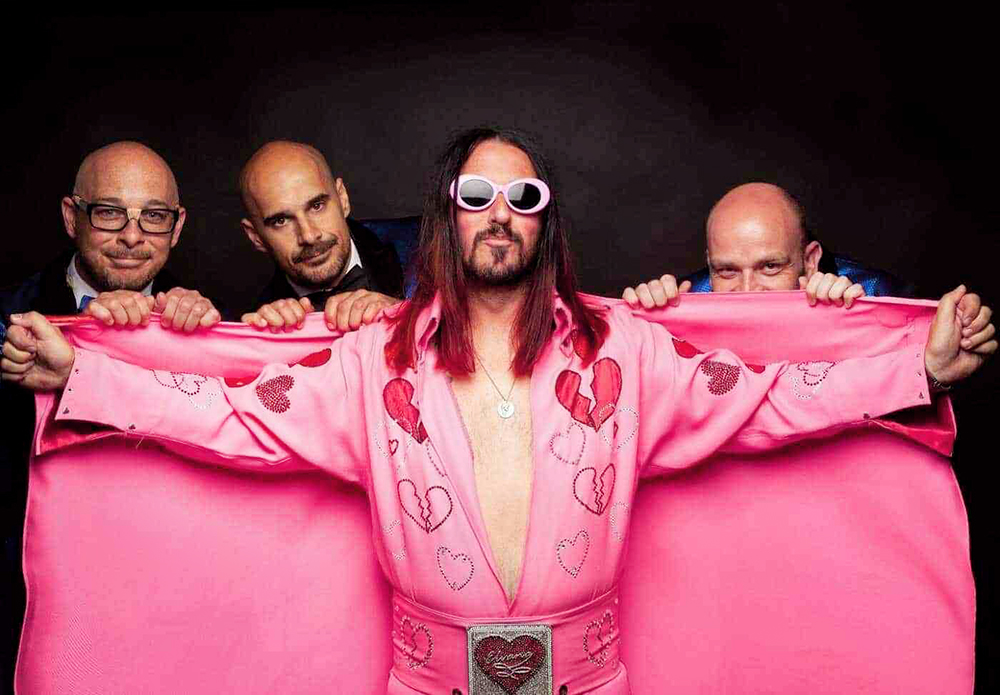 The King Is Back, and he's playing grunge!
Fresh from sell out shows at The O2, Albert Hall and main-stage appearances at both the legendary Download Festival and the iconic Glastonbury Festival, the world's best – and only – Elvis Themed Nirvana tribute act 'ELVANA' have today announced their debut Australian tour.
From Seattle to Mississippi, to the bowels of Disgraceland, ELVANA's Australian tour is set to raise music icons from the dead; rock & Roll will finally collide with grunge and the 1950's will well and truly come alive as Elvis replaces Kurt and Nirvana get a front man wrapped head to toe in red leather and blue sequins.
What started as little more than a joke, with four friends from North-East England forming an Elvis fronted Nirvana tribute act for a fancy dress party, has now snowballed into a completely unique live experience that has taken the world by storm.
Comprising of Elvis, Danny Cobain, Rob Novoselic and Bobby Grohl, ELVANA takes audiences on a journey through Nirvana's catalogue whilst splicing in grunged up sections of the king of Rock & Roll's finest moments, culminating in an audible orgasm of overdrive & old school Rockabilly. It smells like teen spirit, tastes like fools gold and sounds like nothing you've heard before!
"Ladies and gentleman of Australiashire! You are about to witness something you've never ever seen before… In a good way! We couldn't be any more excited to bring our lil ol' show down under and boy are we gonna have one hell of a time!? Come as you are, mate." Said Elvana frontman "Elvis.
The world has seen Nudist Priest (a hairy, naked version of Judas Priest), they tolerated Tragedy, the all-metal Bee Gees tribute act and smiled politely at the concept of Okilly Dokilly, a Ned Flanders themed band, but fans of rock & roll haven't yet experienced the polished (but intensely sweaty) live performance of ELVANA; a journey through Nirvana's catalogue with the addition of grunged-up sections of Elvisí finest moments, culminating in a mega mash-up of hits from two of the world's most acclaimed acts.
Kicking off in Perth in May 2020, ELVANA are set to get Australian audiences All Shook Up, as they take their unique blend of 1950's inspired grunge-rock antics around the country for the very first time, with shows planned for Perth, Brisbane, Adelaide, Melbourne and Sydney.

Tickets for Elvana's debut Australian tour go on sale now via MJRpresents.com
The MJR Group Presents

ELVANA
AUSTRALIAN TOUR 2020
Monday 25 May – Astor Theatre – Perth, WA
Tuesday 26 May – The Triffid – Brisbane, QLD
Thursday 28 May – The Gov – Adelaide, SA
Friday 29 May – 170 Russell – Melbourne, VIC
Saturday 30 May – Max Watts – Sydney, NSW