Frontier Touring are excited to announce that after being forced to postpone their highly anticipated national tour earlier this month, Hoodoo Gurus with very special guests The Dandy Warhols (US) have officially rescheduled their 40th Anniversary Tour to September 2022. Opening proceedings in Brisbane and Sydney will be The Buoys, Even in Melbourne and Adelaide, Gnarlhünd in Hobart and Rinehearts in Perth.
Dave Faulkner of Hoodoo Gurus says: "We just want to offer our heartfelt thanks to Frontier Touring, as well as the The Dandy Warhols and their management. Our last-minute COVID emergency put everyone in a "World Of Pain" (shameless plug) and it took a small army of people working overtime to get this tour back on track. We are incredibly grateful for all your hard work. We also want to thank everyone who has been holding on to their tickets in expectation of today's announcement (#keepyourtickets). Thanks for your patience – we promise you that the wait will be worth it. See you in September."
Sahara Herald of Frontier Touring says: "There's a lot of hard labour behind the scenes that goes into promoting and producing a tour, and it sadly takes just as much effort to undo all that work and start again. Due credit to the publicity, marketing, ticketing, travel, freight and production teams as well as the venues and ticket agents around the country who have worked tirelessly to turn this around and maintained a level of patience and passion for what they do despite the challenges and long hours. But I especially want to thank the punters who have hung on to their tickets and recognise the hurdles we've overcome to get the show back on the road – thanks for sticking with us."
September 2022 rescheduled dates:
Tue 13 Sep 2022 – Riverstage, Brisbane QLD (prev. Thu 14 Apr)
Thu 15 Sep 2022 – Hordern Pavilion, Sydney NSW (prev. Tue 12 Apr & Wed 13 Apr)
Fri 16 Sep 2022 – Sidney Myer Music Bowl, Melbourne VIC (prev. Wed 6 Apr)
Sat 17 Sep 2022 – Hobart City Hall, Hobart TAS* (prev. Sat 9 Apr)
Tue 20 Sep 2022 – AEC Theatre, Adelaide SA (prev. Tue 5 Apr)
Fri 23 Sep 2022 – Belvoir Amphitheatre, Perth WA (prev. Sat 2 Apr)
With shows scheduled in Brisbane, Sydney, Melbourne, Hobart, Adelaide and Perth all existing ticketholders will be notified of rescheduled dates via the official ticketing agency and need not act. Original purchases will be valid for the rescheduled date without the need for exchange. We encourage you to #keepyourtickets. Patrons unable to attend new show dates may obtain a full refund. Refund requests must be submitted to the official ticketing agency prior to Thursday 12 May.
"With Faulkner's charisma and vocal ability and Brad Shepherd's guitar chops and passion, one of Australia's most-loved rock bands prove they still have it." – The Music
"…versatility, and lack of self-indulgence, has made Hoodoo Gurus a rare band to please the critical cognoscentre as well as the public." – Australian Financial Review
Hoodoo Gurus recently released their long-awaited first studio album in twelve years, 'Chariot of the Gods' (EMI Music Australia) which debuted at #7 on the ARIA Album Chart and #2 on the ARIA Australian Album Chart, making it the band's highest charting studio album in over 28 years!
"… the Gurus swing from melodic power-pop (My Imaginary Friend) to crunchy guitar rock (I Come from Your Future), and even sprinkle good ol' psychedelia dust on the title track … This album captures some of that vintage Gurus energy and the mood on their earliest album, Stoneage Romeos" – The Age/SMH
"Hoodoo Gurus goes on the attack, sword in hand, and slays the competition. …Hoodoo Gurus cheekily defies the challenge of the passing years." – Muzzart (France)
Don't miss Australia's iconic rock outfit Hoodoo Gurus and US indie-rock darlings The Dandy Warhols this September. Tickets via: frontiertouring.com/hoodoogurus.
---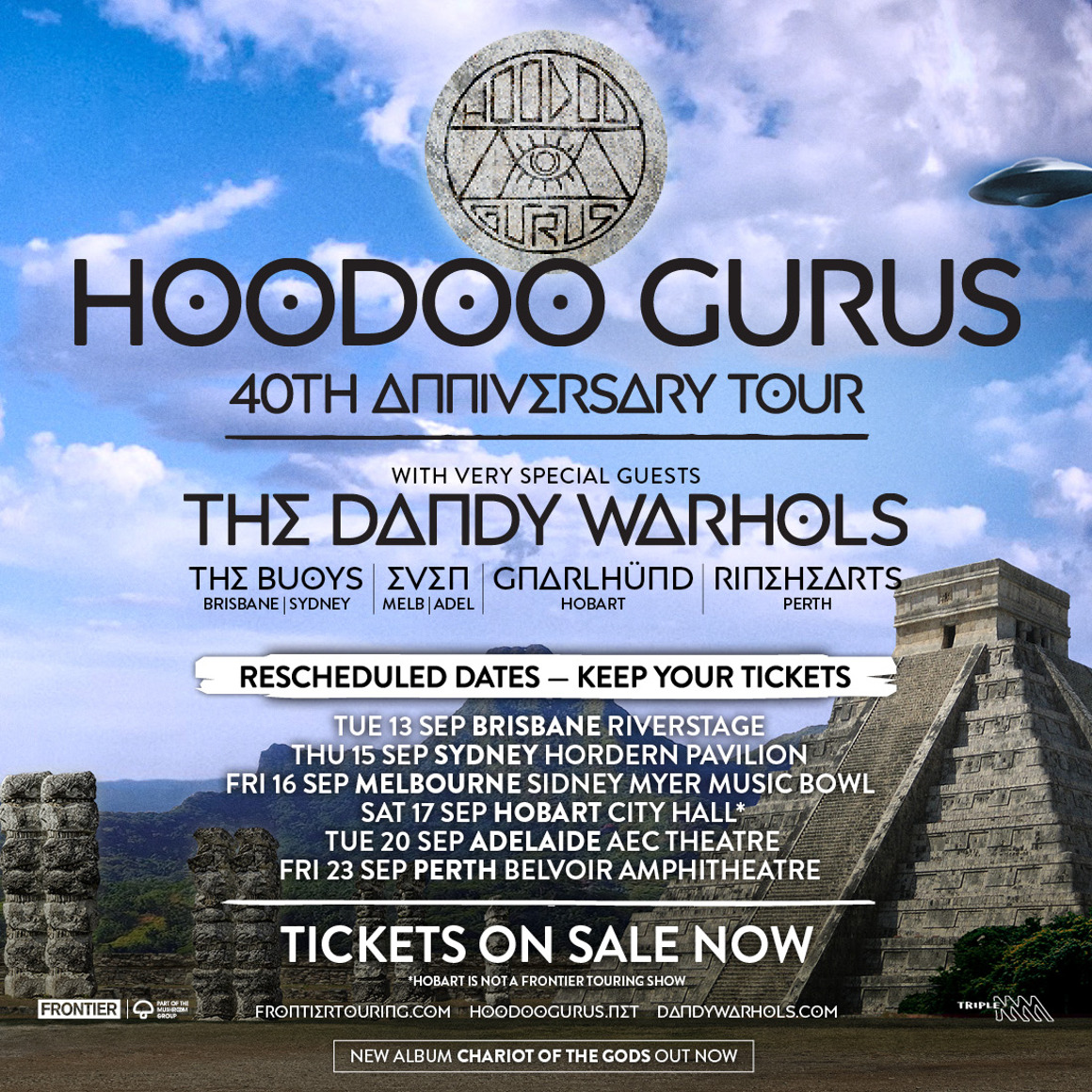 HOODOO GURUS
40th ANNIVERSARY TOUR
TOUR RESCHEDULED
SEPTEMBER 2022
Presented by Frontier Touring and Triple M
TICKETS ON SALE NOW FOR ALL SHOWS
---
Tuesday 13 September
Riverstage | Brisbane, QLD
(Prev. Thursday 14 April)
All Ages
ticketmaster.com.au | Ph: 13 61 00
Thursday 15 September
Hordern Pavilion | Sydney, NSW
(Prev. Tuesday 12 & Wednesday 13 April)
All Ages
ticketek.com.au | Ph: 13 38 49
Friday 16 September
Sidney Myer Music Bowl | Melbourne, VIC*
(Prev. Wednesday 6 April)
All Ages
ticketek.com.au | Ph: 13 38 49
Saturday 17 September
Hobart City Hall | Hobart^
(Prev. Saturday 9 April at MAC 02)
18+
oztix.com.au | Ph: 1300 762 545
Tuesday 20 September
Adelaide Entertainment Centre Theatre | Adelaide, SA
(Prev. Tuesday 5 April)
All Ages
ticketek.com.au | Ph: 13 38 49
Friday 23 September
Belvoir Amphitheatre | Perth, WA**
(Prev. Saturday 2 April)
All Ages
moshtix.com.au | Ph: 1300 438 849
* U18s must be accompanied by a parent/legal guardian
** Parents or Legal guardians accompanying patrons under the age of 18, must sign a Responsibility Waiver Form upon entry. Patrons under the age of 18 are to remain in the presence of the responsible parent /legal guardians at all times. CHILDREN UNDER THE AGE OF 12 ARE NOT PERMITTED.
^ Not a Frontier Touring Show